Description
Element Options:
Filter elements are manufactured from 304 or 316 stainless steel wire cloth material
Mesh Patterns — Square Weave, Twilled Dutch Weave, Plain Dutch Weave
Designed and tested to withstand collapse pressure ratings of 300-6,000 PSID
Temperature ratings from -65° to 300°F (-53° to -148°C)
Various micron ratings available from 2um to 1000um (nominal)
Various mesh sizes available`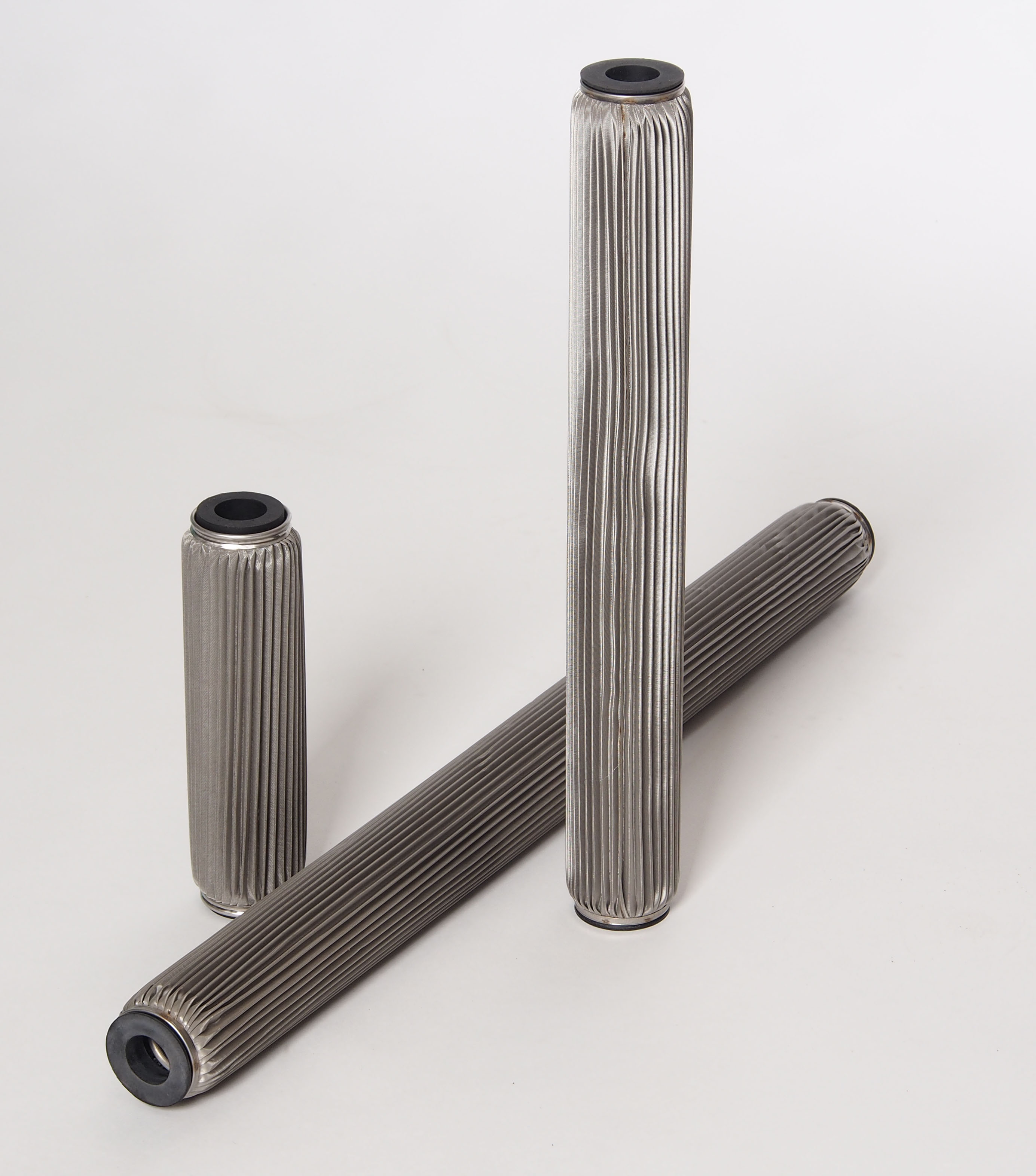 There are four primary construction options for stainless steel filter elements:
Epoxy-bonded Construction:
Epoxy-bonded elements provide sufficient strength for many high pressure applications and are ideal for most fluid applications.
They are easily restored to service by back flushing, ultrasonic or other nonabrasive cleaning techniques. This is particularly valuable and cost-effective in applications involving hazardous fluids. Because epoxy-bonded elements are cleanable, disposal costs are significantly reduced.
Crimped Construction (for Industrial Process Cartridges):
Crimped construction, a process particularly applicable for Industrial Process Cartridges, are often used in applications for batch processing. These cartridges are typically pleated or cylindrical (wrapped), with a lightweight core and a support ring. Industrial process cartridges overcome the temperature and compatibility limitations of cellulose or synthetic fiber cartridges by being manufactured of stainless steel using crimping and welding, with no brazing or epoxy bonding used. Made entirely of 304 or 316 stainless steel, our process cartridges are cleanable, reusable and can withstand differential pressures up to 60 PSI (300 PSID elements are also available). These elements are also good up to 500°F (260°C) instead of the usual 250° F. Our industrial process cartridges are also unaffected by most corrosive fluids. Particle retention can be as fine as 5um. Element media can be pleated to increase surface area. Cartridges rated at 100um or finer have an underlying support layer of coarser stainless steel mesh to prevent pleat collapse.
All Welded Construction:
Stainless steel welded construction woven wire mesh elements are ideally suited for hostile environment applications involving extreme temperatures, high pressures and corrosive fluids. These elements eliminate the harmful effects of media migration, and provide precise filtration control of particles larger than the micron rating. The elements are easily cleaned to restore their useful life by backflushing or other techniques.
Woven wire mesh elements feature all stainless steel components including the end caps, center tube, and woven wire mesh. The precision woven 300 series stainless steel wire mesh pleat packs provide positive particle size cutoff, and totally eliminate media migration as a source of downstream contamination. With proper cleaning techniques these elements may be returned to service. When utilized in filtration applications involving hazardous fluids, the cleanability of these elements can dramatically reduce disposal costs.
The rugged components and welded construction of the woven wire mesh elements make them ideal for many high pressure applications. Elements are designed for collapse pressure ratings from 300 psi to 4500 psi. Applications involving extreme temperature ranges that would destroy conventional epoxy constructed elements are ideal candidates for utilizing woven wire mesh elements. These elements can be used in temperatures ranging from -300 to +800(°F).
Elements are available in many efficiency ratings from 2 to 200 microns. The precisely controlled pore size of the woven wire mesh assures absolute particle efficiency in every micron size.
Metal Felt Filter Elements (Nonwoven Stainless Steel Fabric BLUE)
Metal felt filter media is made with thin filaments of nonwoven stainless steel. These porous metal felt filter elements are ideal for high pressure, highly corrosive, highly viscous or radioactive applications. They feature extremely high porosity (up to 85%), high flow rates (up to 20 times higher than other media types), and very long life.
Random fiber filtration (metal felt) can provide absolute particle retention, longer on stream time and high dirt-holding capacity for under 60 micron filter elements. Although more expensive, it often provides clear advantages over wire cloth, sintered metal or non-metallic fibers. Its high temperature, high pressure and corrosion resistance combined with almost unending cleanability, make it highly economical for hostile environments.
Element Specifications:
Metal felt filter elements have a random matrix of 316-L stainless steel filaments with diameters from 4 to 25 microns. The finer the micron, the more open area is provided in a pure crosshatch pattern. When sinter bonded, this random matrix can provide:
Extremely high porosity (up to 85%)

High flow rates: up to 20 times higher than other media types
Long on-stream lifetime
Downscaling is possible (less filter surface is needed to filter the same volume)
Low pressure drop:

The high porosity of our metal fiber media allows a very low pressure drop (and thus lower energy cost), even at high filtration velocities
Ease of cleaning:

The open structure of porous metal media allows you to clean in situ by backpulsing or backwashing
High strength:

The sintering process creates strong fiber bonds and guarantees a high strength filter medium. Combined with an appropriate inner core, our filter elements can withstand thermal shock, high pressures, and frequent backpulsing.
Heat & corrosion resistance:

Our filter media can be used in high temperature (up to 1000° C, depending on the alloy) and/or corrosive applications – where non-metallic textile, ceramic or polymer products fail
Can be used for surface or depth filtration:

Our filter media enables you to achieve high efficiencies through a cake build-up (surface filtration) and also offer high dirt holding capacity for depth particles capture (depth filtration)
Stainless steel and other alloys available:

not brittle, chemical cleaning is possible, weldable, low thermal expansion, maintains structure (no thermal shock) Depending on the performance you require, we select the proper alloy to provide the required resistance and strength
For filtration, the absolute filter ratings are:
for liquids — 1 to 80 µm
for air & gases — below 0.1 µm is possible (HEPA, ULPA)
Applications:
Polymer filtration:

polyaramides, Kevlar®, polyesters, polypropylene, polyamide, Nylon®

Spinning polymers

Automotive:

air filters
lubricant filters
filters for air bag inflators

Chemical and catalyst recovery:

High-temperature liquids
Cryogenic fluids
Solvents, ketones, esters, liquid hydrocarbons
Feed water and make-up water
Ethylene glycol
High-efficiency solids recovery or liquid recycling

Aerospace

Hot gas filtration

Medical and pharmaceutical

Hydraulic and fuel

Nuclear venting

Food and beverage:

Process steam filtration
Catalyst recovery from hydrogenation reactors
Polishing of syrups, liquors, and other liquids
Catalyst removal from flavor ingredients and other food specialties
Activated carbon removal and de-colorization
Cleanability of Stainless Steel Filter Elements
Stainless steel wire cloth elements are idea for hostile or severe environments and applications. That is why cleanability is so important. All of our wire cloth stainless steel filter elements are easily restored back into service by back flushing, ultrasonic or other non-abrasive cleaning techniques. When used in filtration applications involving hazardous fluids, the cleanability of our stainless filter elements can significantly reduce disposal costs.